Turkey will ratify Finland's accession into NATO, bringing it a step closer to welcoming its 31st member as the ripples from Russia's invasion of Ukraine spread across the European security landscape. Sweden's bid to join the military alliance is still in doubt.
The International Criminal Court on Friday issued arrest warrants for Russian President Vladimir Putin and for Maria Alekseyevna Lvova-Belova, citing their alleged roles in the "war crime" of unlawfully deporting of Ukrainian children to Russia.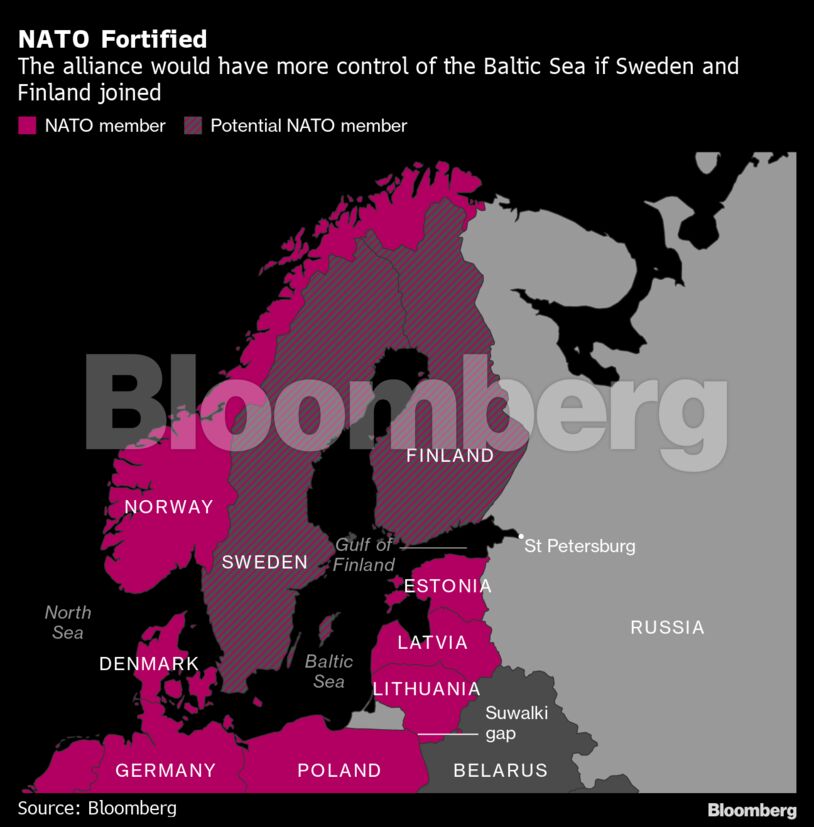 (See RSAN on the Bloomberg Terminal for the Russian Sanctions Dashboard.)
Key Developments
(All times CET)
ICC Issues Arrest Warrant for Russia's Putin (4:20 p.m.)
The International Criminal Court on Friday issued an arrest warrant for Russia's president and for Russian official Maria Alekseyevna Lvova-Belova, in both cases for their roles in an alleged scheme to forcibly deport thousands of Ukrainian kids to Russia.
The efforts were termed a "war crime" by the Hague-based court.
Read more: International Court Issues Warrant for Putin for War Crimes
NATO Edges Closer to Expansion as Turkey Backs Finland's Bid (3:35 p.m.)
Turkey will ratify Finland's accession into NATO, bringing the military alliance a step closer to welcoming its 31st member as the ripples from Russia's invasion of Ukraine spread across the European security landscape.
Turkey has decided to start the process in parliament, President Recep Tayyip Erdogan said at a news conference Friday together with his Finnish counterpart Sauli Niinisto in Ankara.
Crop-Export Deal Renewal Still Unresolved (2:30 p.m.)
The extension of the deal that's bolstered Ukraine's crop exports is still clouded by uncertainty as talks continue before the existing term ends on Saturday.
The agreement — brokered in July by Turkey and the UN — has been vital to shoring up global grain supplies after Russia's invasion of Ukraine sent shock-waves through agriculture markets. Shipments continue for now, with vessels still heading into and out of Ukrainian Black Sea ports and new deals being inked as well.
Russia this week proposed extending the initiative for 60 days — half the duration of its prior two terms — but Kyiv has pushed back, saying that it contradicted the terms of the overarching agreement.
Read more: Ukraine Crop-Deal Renewal Still Unresolved a Day Before It Ends
Kyiv Nightly Curfew to be Shortened (2:02 p.m.)
Ukraine's capital will shorten its nightly curfew and extend operating hours for shopping centers and public transport as of March 26, mayor Vitali Klitschko told reporters on Friday.
The curfew at that point will last for five hours instead of six, from midnight to 5 a.m.
Sunak Spokesman Says UK Wants China to Play 'Genuine' Role (1:21 p.m.)
A aide to Prime Minister Rishi Sunak said the UK would "obviously welcome" China if it "wants to play a genuine role in restoring sovereignty to Ukraine," as Xi Jinping prepared for a three-day visit to Russia.
"We have called on them before to use their influence over Russia to try and encourage Putin to withdraw his troops from Ukraine," Sunak spokesperson Jamie Davis told reporters.
However, any plan "not predicated on Ukraine's sovereignty and self-determination is not a peace deal at all," Davies added.
Xi to Visit Russia Next Week (1 p.m.)
Xi Jinping is making his first state visit to Russia since it invaded Ukraine over a year ago in a show of support for President Vladimir Putin.
The Chinese leader will be in Russia from Monday to Wednesday, according to a statement from China's Foreign Ministry. Xi, who secured a third term as president a week ago, will be the most prominent international leader to visit Putin since the Kremlin's war on its neighbor started in February 2022.
Xi is expected to discuss China's 12-point blueprint for ending the war, a document dismissed by most Western governments. Criticism of the plan was more muted from Kyiv, which has sought talks at a leader level with China since the war broke out while also urging Beijing to take a more critical stance against Russia.
Read more: Xi to Visit Russia for First Time Since Putin Invaded Ukraine
Bank of Russia Sticks to Hawkish Bias (12:07 p.m.)
Russia's central bank kept interest rates unchanged and repeated guidance that it will consider a hike in the coming months even with inflation poised to fall to its target already in March.
In a statement accompanying the decision on Friday, the central bank said higher borrowing costs could soon be in play "if pro-inflation risks intensify," almost word-for-word how it described policy plans in February.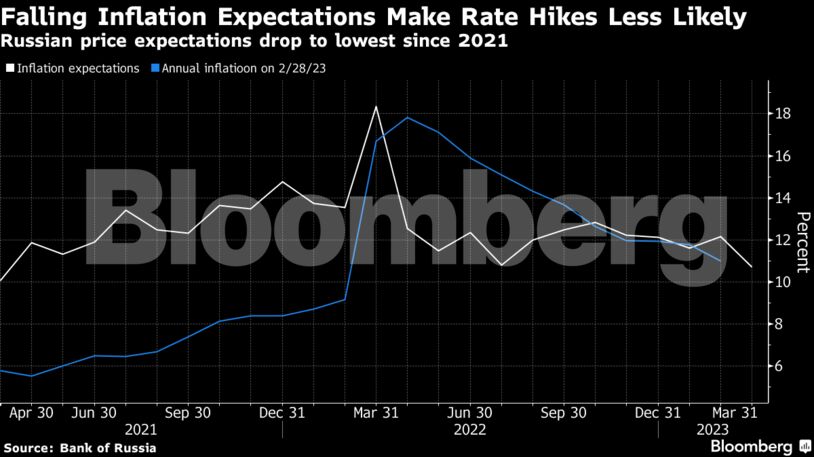 Scholz Says Ukraine Needs 'Security Guarantees' (11:30 a.m.)
German Chancellor Olaf Scholz said Ukraine will need "security guarantees" after the war is over, even as he warned the government in Kyiv and its allies that they should be prepared for a "prolonged" conflict.
"The discussion about the form of such guarantees has been going on for months," Scholz was quoted as saying Friday by the Handelsblatt newspaper. "But for that, there must first be an end to hostilities and a withdrawal of Russian troops," the German leader said, adding that "all other questions follow on from that."
Germany Mulls Training of Ukrainian Pilots (11:20 a.m.)
Germany is looking into training Ukrainian fighter-jet pilots and could quickly pave the way for Poland to re-export MIG-29 fighters to Ukraine if they're from stocks from the former East Germany, according to a lawmaker from the ruling coalition.
"Germany should participate in efforts to train Ukrainian pilots, for example with lessons in flight simulators," said Marcus Faber, a lawmaker from the Free Democrats. Germany is unlikely to send any of its Tornado fighters to Ukraine as they're relatively difficult to maintain and spare parts are also lacking, Faber added.
Russia to Give Medals to Drone Incident Crew (10:30 a.m.)
The pilots of the Su-27 fighters involved in the crash of a US drone over the Black Sea this week will get medals, according to the Defense Ministry in Moscow.
Sergei Shoigu, the minister of defense, formally nominated them for what his ministry called "preventing the violation" of the expanded airspace that Russia has claimed during its invasion of Ukraine. The US accused the pilots of "dangerous, reckless, and unprofessional behavior in international airspace."
Latvia Bans 35 Russians Over War Support (10:40 a.m.)
Latvia's Foreign Ministry placed 35 Russian citizens on a blacklist for supporting "Russia's aggression in Ukraine."
The people on the list "will be prohibited from entry to Latvia for an indefinite period of time," the ministry said in a statement. "Support for atrocities perpetrated by the Kremlin regime means complicity with the crimes committed," it added.
Slovakia Sending 13 Soviet-Era Jets (10:15 a.m.)
Slovakia will send its entire fleet of Soviet-era fighter jets to Ukraine.
The eastern NATO member state will send all 13 of its MiG-29 jets – grounded since August and in various states of readiness – at an unspecified date, Defense Minister Jaroslav Nad told reporters in Bratislava.
The announcement comes a day after Poland said it will send four Soviet-era fighter jets to Kyiv in the coming days. Both nations are responding to pleas from Ukrainian President Volodymyr Zelenskiy, who has persistently demanded warplanes as essential to driving back the Russian invasion.
Read more: Slovakia Will Send Entire Fleet of MiG-29 Jets to Ukraine 
Battle for Bakhmut Continues (10 a.m.)
Russian forces supported by Wagner Group operatives have established footholds in the center of Bakhmut while Ukrainian troops continue to hold out in the west of the city, according to the latest UK defence intelligence update.
"More broadly across the front line, Russia is conducting some of the lowest rates of local offensive action that has been seen since at least January 2023," the defense ministry said in a series of tweets.
"This is most likely because Russian forces have temporarily depleted the deployed formations' combat power to such an extent that even local offensive actions are not currently sustainable."
Zelenskiy Vows War Crimes Will be Prosecuted (9 a.m.)
Zelenskiy vowed that Russians who have committed war crimes in Ukraine will be held to account and said legal work is already underway to "bring justice closer" and "punish this aggressor in the same way as the aggressors of the past were punished."
"The day will come when all the perpetrators of war crimes against Ukrainians will be brought to justice in the halls of the International Criminal Court and national courts," Zelenskiy said in his evening address.
He said he spoke with UK Prime Minister Rishi Sunak and met with Latvian Premier Krisjanis Karins in Kyiv Thursday and thanked them for their support for Ukraine's defense.